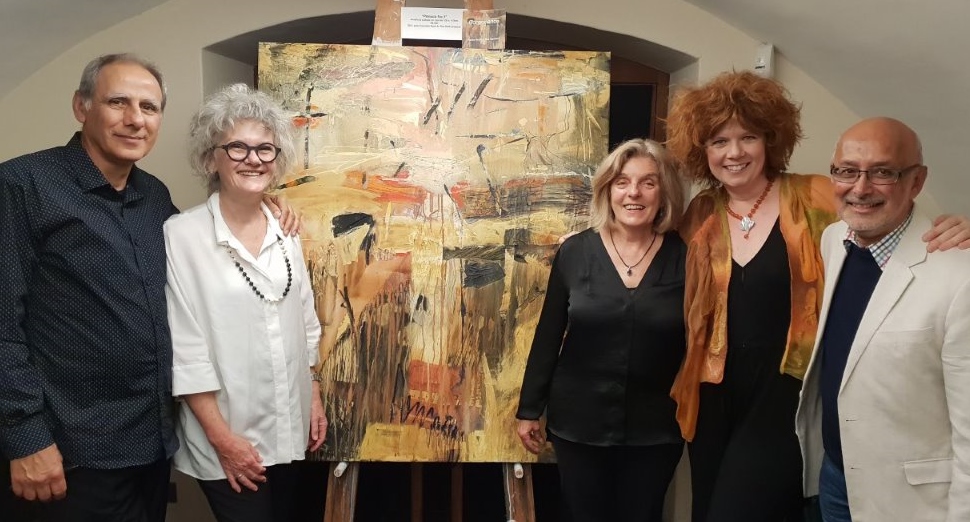 at Bach in the Dark " Consonance" CD launch.
MY LATEST NEWS!
Just out - "Bluetongue" on NAXOS! The latest Guitar Trek CD has all of Phil Houghton's quartets plus Nigel Westlake's Six Fish, a new work by Elena Kats-Chernin and my 8th Guitar Quartet: FIVE TAILS IN COLD BLOOD - Order now here

Relaxing!

Two new duos for the ABC ClassicFlow Meditation Podcasts THE SWEET BREATHING OF FLOWERS (guitar & didgeridoo) and THE LEGEND OF THE RIVER RED GUM (guitar & shakuhachi) for Steve Allen, William Barton & Riley Lee; in recording now! About ClassicFlow

More exciting!

Quintet for guitar & strings SHORELINES (Matt Withers and Acacia Quartet) just released on the CD Imaginations also available digitally Download Shorelines

Listen to a fantastic live recording from the 2018 Melbourne Guitar Festival Shorelines live

Just released, CONSONANCE, a new CD featuring cellist Rachel Scott and my good friends the Agostino Duo. They have recorded three of my "Bach Constructs" along with a new version of my Klezmer arrangements. The disc also has Phil's gorgeous miniature "Adoration", Vincent Lindsey-Clark's folksongs and other fantastic Bach arrangements by Janet Agostino. See here for more details or to order

The SONATA OF FORGOTTEN DREAMS was premiered in New Zealand at the 2016 Taranaki Guitar Summer School. This is my latest solo sonata, commissioned and performed by Timothy Kain. It has been a privilege to work with Tim on many commissions over the years and together we have produced a fine body of work. This latest piece is in four movements with a slightly unusual tuning - E, G#, C#, g, b, e. Now, just released on NAXOS worldwide, Tim's new solo CD is titled "Forgotten Dreams". See here to order.

One of my recent ensemble works, "THE JOURNEY OF LIGHT & SHADE", commissioned by Christian Moritz for the Jugend Guitarren Orchester Hamburg was recorded on their new CD "Dedicated" and is also just published by Joachim-Trekel-Musikverlag in Hamburg. I was very pleased to meet the group and be at their CD launch. Their concert was the opening event of the 7th Hamburg Guitar Festival. Listen to the 2nd movement - HERE

I had the great privilege of conducting the Adelaide Guitar Festival Orchestra (AGFO) at the Adelaide International Guitar Festival in 2016. More than 80 emerging guitarists of all ages, and from across the country, came together under the direction of myself and my colleague, guitar ensemble specialist Dr Paul Svoboda for an exhilarating performance at the Adelaide Town Hall. We did the opening half of a concert featuring the Australian String Quartet with Slava Grigoryan, Karin Schaupp and Wolfgang Muthspiel. It all seemed to go very well - the audience gave us a standing ovation!

Long time colleagues, Oliver Fartach-Naini & Lee Song-Ou , celebrate a quarter of a century playing together with their CD - "GUITAR DUO 25". They have included my duet, commissioned by them a few years ago, ALONG PARALLEL LINES. Listen to part of the track HERE

NIGHT RAIN IN A TROPICAL GARDEN has been recorded on John Couch's CD "Ask Me Tomorrow". This is a two movement work for violin & guitar commissioned by John back in 2009. The CD is an all contemporary disc with works by Campbell Ross, Marian Budos, Sally Greenway and John himself. For more info or to order - HERE

After being recorded quite a few years ago now, Mosaic has finally been released on an ABC Classics CD titled - Mosaic (Australian Guitar Concertos). Karin Schaupp is the soloist together with the Tasmainian Symphony Orchestra conducted by Ben Northey. The disc features all Australian guitar concertos with Peter Sculthorpe's Nourlangie, Ross Edwards' Arafura Dances and Philip Bracanin's concerto. Details - HERE.

My ensemble work, "INNER VOICES", commissioned by Jason Sagebiel for the New York City Guitar Orchestra had another performance in NY at the Tenri Cultural Institute, 43A West 13th Street

.

The Australian premiere was conducted by the composer at the 2015 Sydney Guitar Summer School.

The Guitar Trek CD (Six Fish) celebrates 25 years of this unique ensemble. Featured is my guitar quartet "CAPRICORN SKIES" and "DREAMS & DANCES ON MORETON BAY". The disc is an all-Australian affair also containing Nigel Westlake's 'Six Fish' and works by Phillip Houghton and Martin Wesley-Smith.

(Tall Poppies TP221)




---
Australian publisher "Reed Music" has published all three of my song cycles - Songs of the Tide, Dust on a Butterfly's Wing & Statues. For more info or to order go to their online store - www.reedmusic.com
German publisher "Joachim-Trekel-Musikverlag" has published all of my mandolin ensemble music - Dances for the Mandolin & the Moon; Adventures of the Duyfken; A Day at the Circus; Meridian & Daintree. For more info go to - www.trekel.de
---
MY LATEST PUBLICATIONS OF GUITAR MUSIC . . .
"FIVE TEN & FIFTEEN" - for guitar solo. (Contains Five Short Pieces, Ten Exotic Preludes & Fifteen Elementary Studies) - many of these are listed in the latest AMEB Syllabus - beginner to intermediate level.

"COLLECTED THOUGHTS", contains both Afterthoughts Series plus other solos including "The Lady of the Lake" & "The Black Cockatoo".
Want to order some music? go to the ORDERS page or just email me.